---
210 KM WHITE SANDY BEACHLINE
Spectacular white sand beaches and the warm crystal-clear Caribbean ocean waves are a generally calm, serene, and full array of tropical marine life.
6000+ UNDERGROUND CENOTES
Visit these subterranean limestone lagoons are some of the most beautiful extraordinary places for swimming, snorkeling, and especially scuba diving.
MESOAMERICAN CORAL REEF SYSTEM
An outstanding natural system of the 2nd largest barrier reef, offshore atolls, several hundred sand cays, mangrove forests, coastal lagoons, and estuaries.
---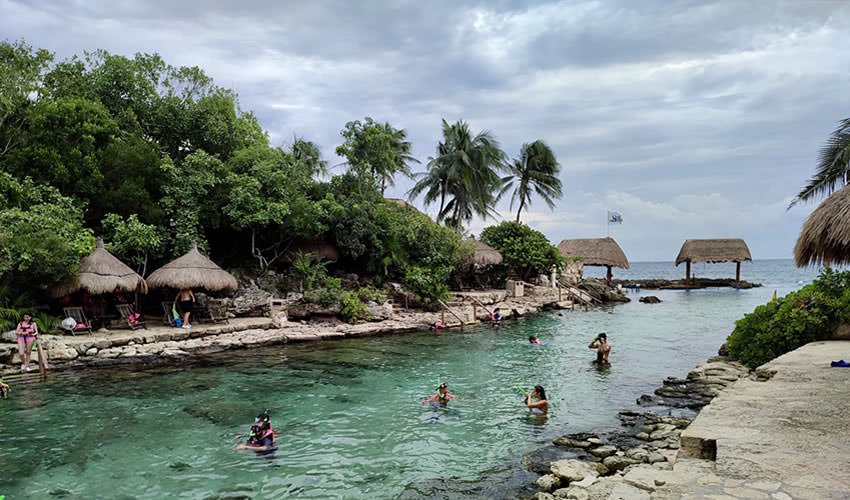 Xcaret is a combination of a water park and a nature park with more than fifty attractions where the theme is Mexico's cultural traditions and folklore. Swim in the underground rivers, explore the Aviary, the Coral Reef Aquarium, and the Butterfly Garden, Mayan archaeological remains, and learn about the culture and traditions of Mexico.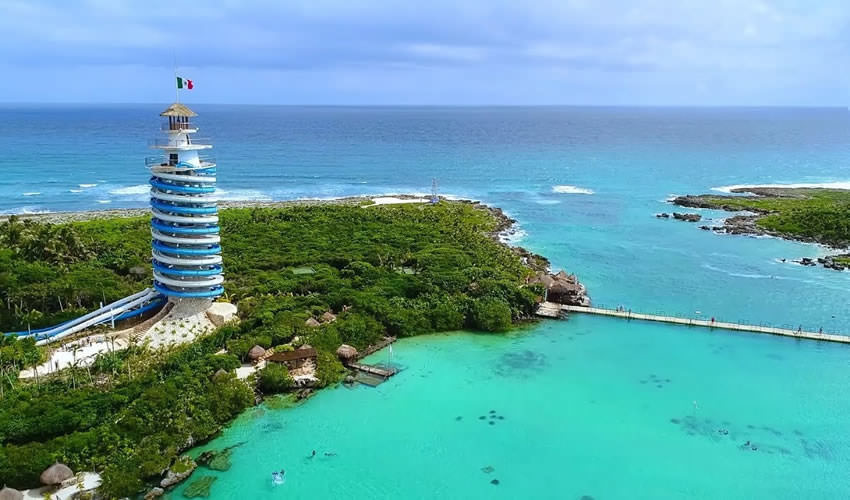 Xel-Ha is an all-inclusive park waterpark all about marine life, snorkeling, and nature in a cove that flows into the Caribbean Sea. You can ride a bike along the jungle paths, jump into the water from the "Stone of Valor," zip line, and feel the excitement of the tallest waterslides in the entire Riviera Maya at the Mirador Lighthouse.
THEME AND ECO PARKS IN RIVIERA MAYA
---
  What is Riviera Maya known for?
The Riviera Maya is famous for its large-scale all-inclusive resorts, crystal turquoise waters, its white-sand beaches, cenotes, majestic archaeological sites, natural and unique theme parks, in addition to magnificent hotels, and, exquisite cuisine.
  Things to do in Riviera Maya
Riviera Maya is an idyllic little slice of paradise with activities at the most visited locations including jet-skiing, snorkeling, scuba diving, swimming in cenotes, swimming with dolphins, zip-lining, horse riding, sailing, and guided jungle tours.
---
Mayan Riviera is one of the few places on this earth that offers beautiful emerald blue ocean water, some of the best diving in the world, and any sport you desire. With warm tropical weather, friendly people, famous Mayan ruins, and vast activities, this is the ultimate vacation destination for both the active sports enthusiast as well as the professional sunbather. You will find here all you just could imagine, from exploring the ancient civilizations to sailing through the bright turquoise waters of the Caribbean Sea and sampling all the delicious Mexican food the region has to offer.
READ MORE ABOUT RIVIERA MAYA
RIVIERA MAYA ON GOOGLE MAPS
---